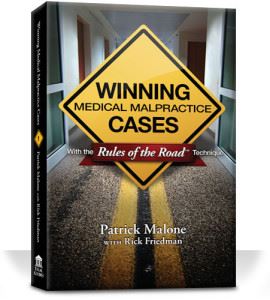 Liz Mulvey will be speaking at the American Association for Justice's upcoming education seminar, Winning Medical Negligence Cases with Rules of the Road. The program, to be held at the Hotel Valley Ho in Scottsdale, Arizona, on March 8-9, 2013, features updated and expanded presentations from last year's well-attended event in Las Vegas.
The Rules of the Road approach is based on the bestselling trial guide by Pat Malone and  Rick Friedman, Winning Medical Malpractice Cases with the Rules the   Road™ Technique. All participants will receive a copy of the book, plus actual trial transcripts demonstrating how to use Rules approach in the courtroom.  The panel of speakers will also brainstorm with attendees about their own cases.
Program chairman Pat Malone has assembled a panel of nationally respected trial lawyers and consultants who will address all aspects of successfully representing victims of medical negligence, including discovery, opening, direct and cross-examination, and closing argument, during the two-day seminar. The faculty will share their secrets to create the winning edge in these challenging cases using Rules of the Road and other proven methods.
The seminar has been expanded to include a half-day of all new presentations on such topics as representing children with birth injuries, combating the epidemic of falls in hospitals and nursing homes, unlocking institutional secrets through depositions of corporate spokesmen, and calling the defendant as witness in the plaintiff's case.
Mulvey is a frequent lecturer on trial practice in Massachusetts and nationally.  Malone has asked her to share her techniques for cross-examining expert witnesses without the benefit of a pre-trial deposition.  Mulvey is an advocate of this approach, which she feels benefits the plaintiff by eliminating the chance for defense experts to rehearse and shape their testimony, and also helps to keep litigation costs under control.
Crowe & Harris is a long-time Leaders Forum supporter of the AAJ, an organization that seeks to preserve and protect the rights of injured victims against judicial and legislative attacks.