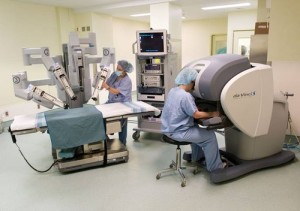 Want to avoid a large surgical incision and scar?  Want to spend the least amount of time in the hospital?  Want the least possible blood loss?  Least amount of pain?  Less narcotic medicine? Want to recover from surgery as fast as possible?
These are the questions posed by a patient brochure distributed by Intuit Surgical, the manufacturer of the daVinci robot. The robot is being used to perform a number of different prostate, gynecologic, urologic, cardiac, and abdominal surgeries.  The doctor controls the surgical instruments from a console near the operating table.  And for some patients and some doctors, the results are good.   But for other patients, the complications can be extremely severe.
We recently met with a client who had suffered a serious nerve injury after undergoing robotic surgery on his prostate.  During his operation, the machine broke down, the surgery went much longer than planned, and eventually had to be converted to a standard open procedure.  Probably as a result of remaining too long in the surgical position, the man suffered a disabling nerve injury, and cannot work.
There is a growing body of medical literature documenting a number of specific complications of robotic surgery.  These range from nerve injuries and vision loss to brain damage or even death.  Many of these arise from prolonged time on the operating table, which is often attributed to the inexperience of the operating surgeon.  Despite evidence that there is a steep learning curve, requiring as many as 200 surgeries to become proficient, doctors are rushing to sign up patients for the new technology. In addition, patients with certain medical conditions may be at higher risk for complications with the minimally invasive approach.
Researchers at Johns Hopkins Hospital in Baltimore have expressed concern that hospital websites may be misleading patients by making unproven claims about the safety and effectiveness of the robotic procedure.  Often using content and images provided by the manufacturer, and even providing a direct link to Intuit's website, hospitals tout the benefits of surgery, overestimating the advantages and largely ignoring the risks.
Hospitals of all sizes are seeking to gain a larger share of the lucrative market in this area.  But especially at smaller hospitals, the volume of procedures may not be sufficient for the surgeons, anesthesiologists, and operating teams to develop the expertise needed to use the robot safely and efficiently.   Individual surgeons, feeling pressure to compete with their peers, may rush to perform robotic surgery before they have developed true proficiency.
Despite the obvious appeal of shorter hospital stays and less pain, patients considering robotic surgery should carefully question their surgeons about the actual benefits and the doctor's own experience with the procedure.  Otherwise, these patients may be trading short-term benefits for devastating long-term consequences.
Read More: Anesthetic considerations for robotic prostatectomy: a review of the literature.
Read More: daVinci Surgery Patient Flyer