A recent case from the Supreme Judicial Court is an important reminder to home and business owners to make sure they read and understand the terms of their insurance policies.  A local dog owner didn't do that, with devastating consequences.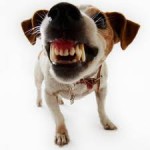 Caron v. Horace Mann Insurance Company involved a homeowner's policy that both the homeowner and the insurance agent believed provided $500,000 in coverage for liability resulting from dog bites.  When the homeowner met with her agent to complete an application for a new insurance policy, the agent asked the homeowner if she owned any of a specific list of dog breeds.  The homeowner truthfully replied that she did not; she owned an American bulldog, which was not on the list.
Although they did not discuss dog bite liability, both the agent and the homeowner believed that the full policy limits of $500,000 would apply to liability resulting from a dog bite.  In fact, there was a clear limitation in the policy language stating that Horace Mann would pay no more than $25,000 for dog bite injuries.  The homeowner later received the policy, and "skimmed" the provisions.
Of course, you know what happened next.  The bulldog bit someone, who sued the homeowner and recovered a judgment of some $250,000.  When the homeowner asked Horace Mann to pay, the company raised the policy provision limiting its liability to $25,000.  A second lawsuit ensued–and the Supreme Judicial Court ruled that Horace Mann was right, leaving the homeowner exposed to uninsured liability approaching a quarter of a million dollars.
This case is an important reminder for dog owners, given the state of Massachusetts law.  The Massachusetts "dog bite statute," G.L. c.140 s.155, makes the owner or "keeper" of a dog liable for any injuries caused by the dog.  Unlike some states, there is no "free bite," and the owner doesn't need to be aware that the dog bites, or is vicious, and the plaintiff doesn't need to prove that the dog has ever bitten anyone before.  The only defenses are that the victim was trespassing, or was teasing or tormenting the dog (unless the victim is under the age of seven, in which case he's apparently allowed to torment the dog).
This statute basically imposes so-called "strict liability," or "liability without fault" on dog owners.  It's really founded on public policy, that the owner or keeper of a dog must pay for any damage caused by the dog, pretty much regardless of the circumstances.  And because dogs will be dogs, and may bite unexpectedly, it's important for dog owners to have proper insurance coverage for this kind of claim.
Read the Supreme Judicial Court's opinion in Caron on the court's website here.